So you feel called to religious life but what do you do next? How on earth do you go about finding a community? You start researching but there are so many and you don't know how on earth to go about finding the right one. Unless you already know a religious community that you're interested in then it can be a very daunting task. So I decided to write this guide as a helping hand to finding a community. Now of course it isn't going to be foolproof by any stretch of the imagination but it's a combination of my own experiences, the experiences of my friends and my fairly extensive research into vocation discernment. You may find it more helpful to mix up the steps, you can follow this as loosely or as strictly as you like.
I recommend having a notebook, journal, etc. for keeping record lest you find an awesome community and forget what it was called and have to spend forever searching again. It can also be good to note down your feelings about different communities, spiritualities, etc. and this guide indicated places where I recommend writing stuff down. I find this good practice for discernment in general, so if you don't already have a journal then I recommend you invest in one.
This guide is for finding a contemplative community. If you feel called to active religious life, click
here
for our guide to finding an active community.
Holy Spirit Adoration Sister -
Source
Step 1: What


I've called this step 'what' because the first big thing in narrowing down religious communities is quite simply by what they do.
The question for contemplative communities is what kind of spirituality draws you. The simple way to go about this is to read about the different spiritualities, do a little research. It's easier than you'd think. If you're still at a loss, think about your favourite saints. If you see a pattern there of Trappists or Passionists or whatever then take that into account. If a certain spirituality appeals to you, make a shortlist in your journal. It's pretty normal to feel drawn to more than one to start with so don't worry if there are a few there. You can include why you feel drawn to those spiritualities and what appeals to you about them.
If you don't have a clue, think about the saints that inspire you. You could start with your patron/confirmation saint: even if you think your selection was random you never know, there could be some divine providence working there. If your patron saint is St. Teresa of Ávila then look up the Carmelites, and etc.


This list is by no means exhaustive but gives some notable monastic families:
Benedictines, Cistercians & Trappists
Carthusians
Carmelites & Discalced Carmelites
Poor Clares & Poor Clare Colletines
Visitation Sisters
Passionists
Holy Spirit Adoration Sisters
You can find our guide to discerning your spirituality
here
.
Step 2: About
So you've got your list of spiritualities. Now I do not recommend writing big long lists of things you're looking for in a community because you'll just get caught up in creating this fantasy community and it doesn't exist because you made it up. However, you should still think a little bit about it. This step involved trusting your instincts a lot. If you are discerning seriously, keeping to regular prayer and receiving the Sacraments often and of course keeping open to God's will then it makes it a lot easier (of course!). The reason I say trust your instincts is because if you are doing all those things I just talked about then God will guide you. For this step I recommend thinking of one or two things, absolutely no more than that, that you feel are important in a community. And by important I mean not just a slight preference but something you feel 100% drawn to and that you discern is 100% part of your vocation.
There are some things I suggest you consider. They may be very important for some but of no importance to others. I am by no means saying a community must do or must not do any other these things in order to be a good community but they are things that vary between communities. And of course keep them in prayer. These things may change over time as you discern and visit communities, you may find that some things are less important than you thought and that others are more important than you thought.
The form of the Mass available at the community.
Whether or not the community wears the traditional habit.
Whether members take on a new religious name.
The individual and communal prayer practices of the community.
Step 3: You
Time to think about you. This may seem counter-intuitive but since you're the one joining there are things you need to consider. Some are things you can deal with before entering or discerning with a specific community, others are things you would have to discuss with a community. At this point I recommend making a list of questions to ask a potential community because otherwise you'll probably forget them all the second you start speaking to them.
Do you have any allergies or intolerances, food or otherwise? Ask the community how this would be handled if you were to enter.
Do you have any personal debts? How can you work to eliminate these debts? How long would it take to eliminate these debts? If you are in the US and have student loans note down the name of the Laboure Society. If you are in the UK, remember that student loans are not a barrier.
Think about your emotional and mental state. Are there problems you think need some resolution? Silence can bring up unresolved things so it is worth giving this some thought. It's okay if you think there are some things you need to work on, we are only human after all and there are things that sometimes take a little time to work through.
Step 4: Where
Now you've got a shortlist of spiritualities and a couple of things you think are important but how on earth do you go about finding these places?
My first suggestion is to go to your diocesan website. There should be a directory of religious communities in your diocese, if it's not on the website then speak to your parish priest who should have a directory. If you're in the UK you can find your diocesan website through
here
. If you live close to the edge of a diocese, check the neighbouring diocese as well. The simple reason for this suggestion is that chances are they're not too far away from you. This then gives you a lot more room for visiting different communities and getting experience of a variety of ways of contemplative life.
If there isn't a community of any of the spiritualities you are drawn to in your diocese then you have to look a little bit further afield. Some spiritualities will have more communities than others. For example, in the United States there are over 30 Carmelite communities and 4 Passionist communities. So depending on the spiritualities you have chosen you may have more options to work with. The Vocation Operation has a directory of religious communities separated by country and spirituality. Just click on your country in the right sidebar to go to the page and communities are listed by spirituality.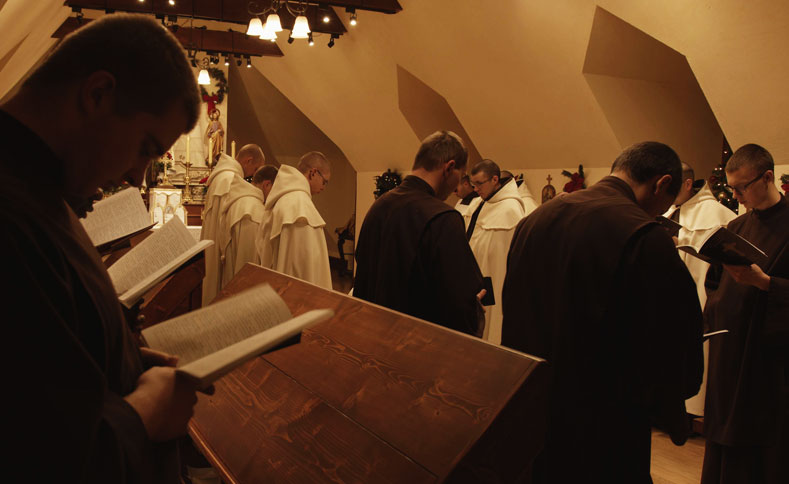 However it is you've found your communities, you can now begin looking more at the specifics of them. Look at the community websites, read about their practices and their history to get a sense of the community. Remember that other list you made, those two or three things you felt drawn to in a community? Keep these in mind as you look at different communities. If you find a community you feel drawn to, add it to a new list of communities you are interested in.
These are things I suggest you should try to find out about a prospective community. Do not worry if you cannot find them all out immediately, you can always ask if you visit or correspond with them.
Eligibility: what are the eligibility requirements for entrance? Some communities may not have any general requirements but some do so be sure to check this. They're usually nothing too complicated, the most common one is age restrictions.
Formation: what are the formation processes and how long are the various stages of formation?
Horarium: it is good to try and get a general sense of the daily life of the community. This will only be a guide but will give you a good sense of what basic life is like. Consider asking the community what differences there are in the horarium for Sundays and feast days.
Step 5: Contact
This is the scary part. Exciting, but at the same time for a lot of people mind-numbingly terrifying. The key here is to remember that the members of the community have all been through the exact same thing. This is also where distance starts to become a real factor. Try to prioritise that list of communities you feel drawn to. If you have multiple spiritualities still, I recommend contacting at least one or two communities from each so you can try to experience and discern both. When prioritising consider your distance from the community, how their spiritual practices attract you, how their community life and spirit attracts you.
If the community is close to you, I recommend going for a visit. Even if it's just for an afternoon it will give you the chance to speak to someone face-to-face. Try to attend Mass at the community if you can, even if it's just once. If the community is not close by, you may want to correspond with them before making a visit since any visit would probably take more than just an afternoon. In your first letter I recommend including:
Your name and age - age is important because it tells a community where you're at in life and helps them respond to you appropriately.
If you are studying or if you are working - again it tells a community where you're at in life which can be very useful for them.
A little about your faith - were you raised Catholic or are you a convert? If the latter, when were you received into the Church?
A little about your discernment - you can include how long have you been discerning for, if you have been discerning privately or with a spiritual director, etc.
And now is where this guide leaves you and the community will take over from here. If the first community you contact doesn't work out, don't worry. It's totally normal to look at several communities before finding the right one.
The most important thing is to trust in God and give yourself over to Him completely. Be open to what God is telling you and He will guide you to His will.